UK Champion & Aust. Grand Ch. Orobay Graceful Triumph
Sire: Aust. Ch. Kislev Gambling Man A.O.M.
Dam: Aust. Ch. Orobay Amazing Grace A.O.M.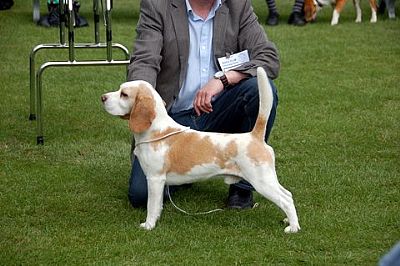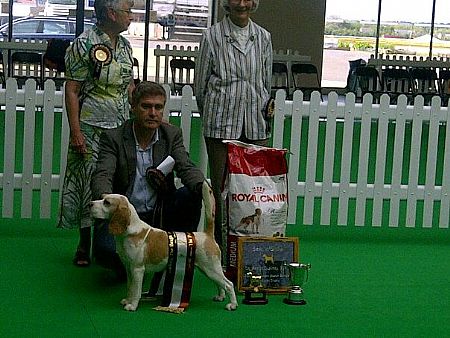 Not only did Trumpy become the first Australian bred beagle to gain his UK title but he also finished 2012 as the TOP BEAGLE in the UK. How amazing! He was awarded a total of 13 Challenges for 5 Best in Specialty shows and 5 Best of Breeds with a Group 2 and Group 3, 2 x Reserve Challenges and 1 x 2nd place in class.
I cannot thank enough his owner, Jane Millar, for allowing Trumpy to make the journey to England. Also to Brian Foster and Jen Davies for their wonderful care of Trumpy and for campaigning him to all these amazing wins. You are all absolutely awesome!
Exciting News!!!
Trumpy made his debut at Crufts and it was so exciting when he was pulled out for the final cut in the Open Dog class. Can you imagine the excitement when he was awarded 1st Place! Then to top it all off, he was awarded Reserve Challenge Dog. A pretty good effort for an Aussie beagle competing in the country of origin for the breed.
Crufts Critique. Open Dog (20,2) Foster & Davies Aus Gr Ch Orobay Graceful Triumph. Lovely T&W lad, well balanced, everything flowing into place with no acute angles. Lovely head & expression. Good reach of neck leading to firm level topline & correctly set tail. Shoulder & rear angulation balanced. Moved at breakneck speed which does nothing to show off movement, but when slowed a bit showed off his very good movement - no bouncing & wasting energy. RCC I shall watch his British career with interest.
Trumpy will be leaving our shores to try his luck in the UK. He will be co-owned and campaigned by Brian Foster (Stormpasture) & Jen Davies (Seevad) and entered at Crufts 2012. Good luck Trumpy and see you at Crufts in March.
This boy's accomplishments at specialty shows says it all - just a superb beagle.
Baby Puppy in Show - Beagle Club of Vic. 2007 Judge: Mrs. Georgina Kemp (UK)
Puppy in Show - Beagle Club of NSW 2008 Judge: Mr. Barry Day (UK)
CC & Rup BIS - Beagle Club of NSW 2009 - Judge: Mr. Steven Seymour (UK formerly Aust.)
CC & BIS - Beagle Club of NSW 2010 - Judge: Mrs. Sally Kimber (UK)
CC & BIS - Beagle Club of Vic 2010- Judge: Ms. Carol Boulton (NSW)
CC & BIS - Beagle Club of Vic 2010 - Judge: Mrs. Barbara Martin (NSW)
CC & BIS - Beagle Club of NSW 2011 - Judge: Mr. Brian Foster (UK)
CC - Beagle Club of NSW 2011 - Judge: Mr. Peter Higgins (UK)

Winner of Beagle Club of NSW Puppy of the Year Competition in 2008 & 2009
Winner Beagle Club of NSW Beagle of the Year Competition in 2010
2010 saw Trumpy win Best in Show under Mrs. Sally Kimber (UK) at the Beagle Club of NSW's 89th Championship Show. He won the Beagle of the Year Competition on Easter Saturday
CRITIQUE:
As soon as he came into the ring this t/w took my eye with his super outline, good depth of body without appearing to be short in leg, masculine head with the typical Beagle soft expression and excellent pigmentation. Bone and feet excellent and he has good strong quarters with sufficient angulation and moved true with drive for his handler. One I would be proud to own.
Trumpy wins Best in Group (Miss. Carole Woolcock) and Reserve in Show (Mr. Peter Nordstrom) from the Junior class at Maleny Agricultural Show.
CRITIQUES
MR. STEVEN SEYMOUR 11th April 2009
L/W of excellent type and ideal size for male, quality without coarse ness comes to mind with this dog. Masculine head, touch light in eye, excellent mover with good reach in front while keeping a strong topline. CC AND RESBIS
MR. BARRY DAY (UK) 22nd March 2008
Quality lemon dog with good masculine head and a pleasing eye. Good, deep, well coupled body with a pleasing forechest. Good bone, topline, bend of stifle and neat hocks. He moved well behind but was a shade unsettled in front however, in profile he moved freely with reach and drive and making a good, typey outline. BEST PUPPY IN SHOW.
MS. SERENA PARKER (UK) 23rd March 2008
Big enough T/W boy, super forehand assembly with excellent reach of neck, good shoulders & straight front. Level topline, good body shape & well made hindquarters. He has a masculine head but I would prefer a darker eye. His movement is so sound & free.